Enjoy the Beaches of Hilton Head Island
Enjoy the beautiful beaches of Hilton Head Island with morning trips to get the day started out right. Take a folding lounge chair, plenty of sunscreen, water, and refreshing snacks. When there are warming rays of sunshine to absorb, endlessly cresting waves to ride, long-awaited novels to escape into, and all of summer's sizzling passion to savor, there is little time to think of meals in a traditional fashion.  Nibbling at whim on selective, savory morsels has always seemed to be the perfect way to breeze through summertime on this magnificent island paradise.  https://www.hiltonheadisland.org/see-do/beaches
Spend the day playing in the sand, frolicking in the surf, and walking along the sandy shores of the great Atlantic Ocean.  Bask in the more than 12 miles of some of the most beautiful beaches in the United States. From South Beach to Folly Field Beach, Forest Beach to Driessen Beach, and every beach in between, it's no wonder Hilton Head Island has been recognized as one of the top 10 family beaches in the country.
The recipes that make up this versatile collection were born out of enjoying many summers of plenty on Hilton Head Island. Share them with great friends or simply secrete them away for private indulgence whenever the mood strikes
Packing Healthy Beach Snacks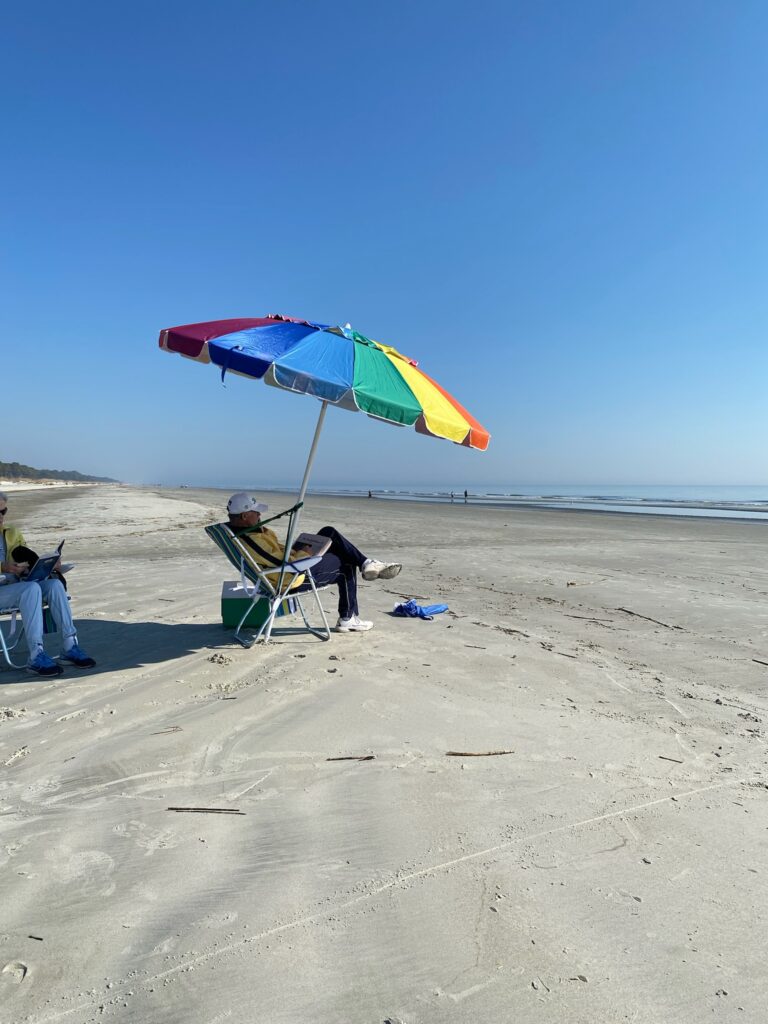 There are a million reasons to love the beaches of Hilton Head Island. What's more relaxing than the feel of sand between your toes, the salty aroma of a sea breeze while basking in the summer sunshine? Just a  few well-thought-out and prepared snacks will make your beach day a memorable and enjoyable time.
Prepare small fruit cups made from seasonal produce like blueberries, kiwis, strawberries, pineapple, and mango with a pinch of coconut flakes. They will not only please your taste buds and help with hydration but will help keep you feeling satisfied.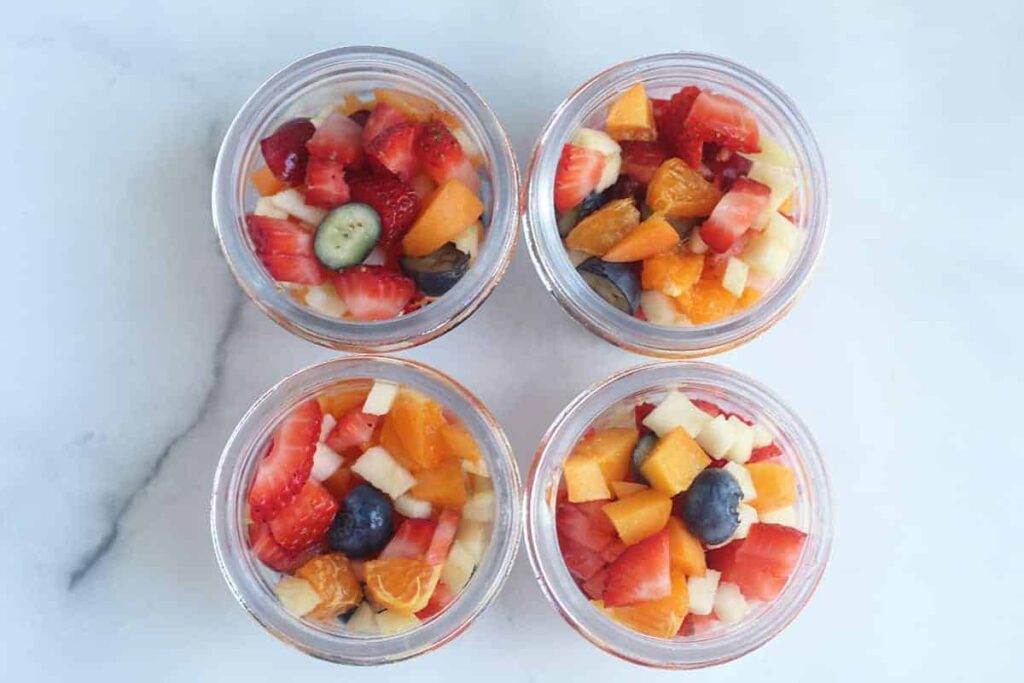 Lunchtime
Lunchtime will be a little heartier than breakfast with handhelds like sandwiches, and roll-ups that incorporate nutrient-dense produce.  Vegetables including spinach, radishes, artichokes, tomatoes, and onion can add a satisfying crunch to your lunch.
Pinwheel Sandwiches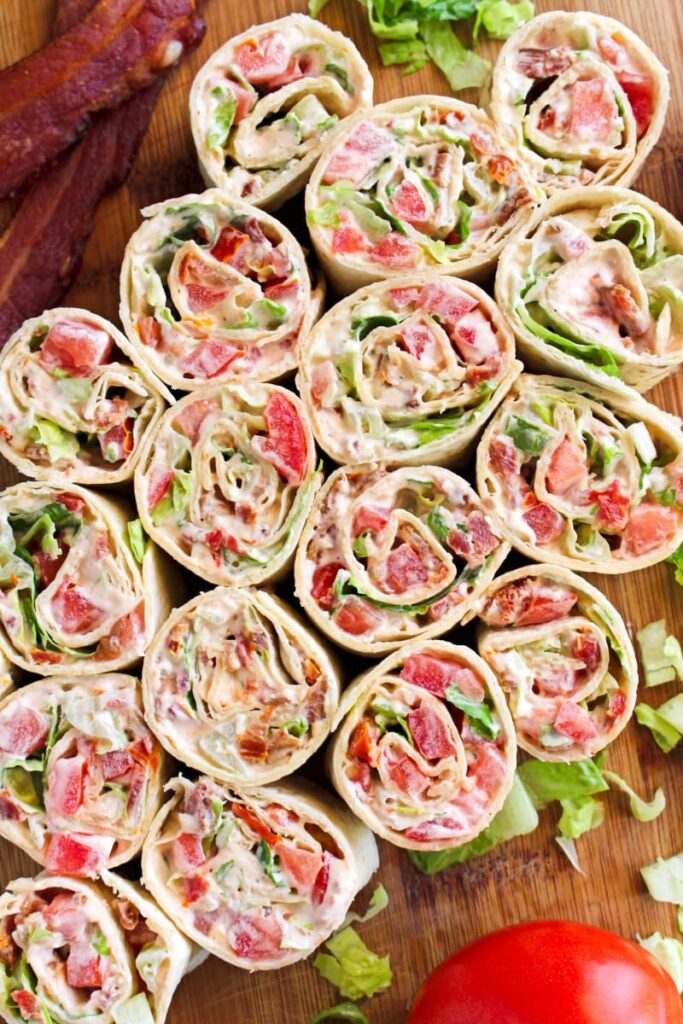 These make-ahead sandwiches are rolled up in tortillas or flattened sandwich bread and absolutely loved by everyone! They are so quick and easy and fun! It's so easy to enjoy the beautiful beaches of Hilton Head Island!
BLT Pinwheel Sandwiches
Use large flour tortillas for this.  Set your cream cheese out for about 30 minutes to soften it up.
4 ounces cream cheese
4 pieces of sliced, crumbled bacon
½ cup chopped tomato
Combine these 3 ingredients in a small bowl.
Spread the filling mixture between two large, flour tortillas and sprinkle with 4 chopped Romaine lettuce leaves.
Roll it up.  Starting at the bottom, tightly roll the tortillas. Poke sandwich toothpicks down the center to help keep its shape.  Cut into 1 to 1 ½ -inch slices and place in zip-top bags. Chill.
Stay Hydrated
Staying hydrated while on the beach sounds simple; however, it is easy for the day to get away from you.  Quench your thirst with naturally infused water.  Adding a few slices of cucumber, a wedge of lemon or a sprig of mint or basil will turn your water into a spa experience for your mind, body, and soul.  It's important to hydrate throughout the day. You'll feel better and have plenty of energy for riding the waves and swimming to shore.
A Favorite Dish to Bring to the Beach for Supper
This simple Mediterranean Caprese Tortellini Salad makes the perfect dinner for two.  It creates a romantic end to a perfect day.  Enjoy this while sitting in your beach chair watching the tide roll in and the sun go down.
  With fresh, juicy, summer ripe tomatoes, mozzarella pearls, garden-picked basil, garlic, tortellini, and a generous drizzle of olive oil you have a healthy, flavorful, festive dish to share. There is no better way to enjoy a light supper while taking in some of the most breathtaking scenery our coast has to offer.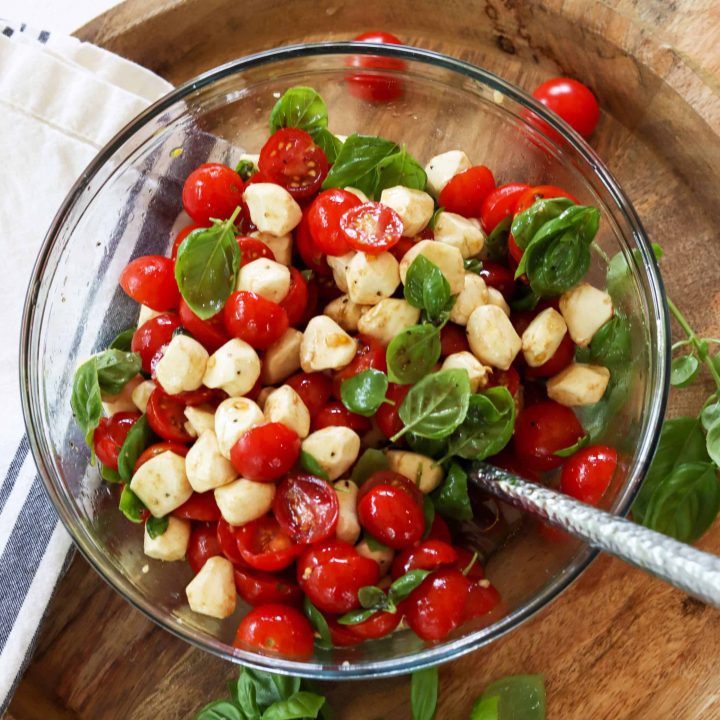 Mediterranean Caprese Salad
Simple to make in just 5 minutes.
1 -pint grape tomatoes – cut in half
8 ounces Mozzarella pearls or cubs
1 cup fresh basil leaves – torn
¼ cup olive oil
1 tablespoon balsamic vinegar
1.2 teaspoon sea salt
¼ teaspoon fresh cracked black pepper
Combine tomatoes, cheese, and basil in a medium-size bowl and set aside.
In a mason jar, mix olive oil and balsamic vinegar.  Pour over salad and gently toss.  Sprinkle with salt and pepper and toss to mix.  
This is best served at room temperature and can be stored in the refrigerator for two days. Want to change things up just a bit?  You may add cooked pasta, avocado, sliced peppers, or onions. If you have leftover chicken, toss it in.